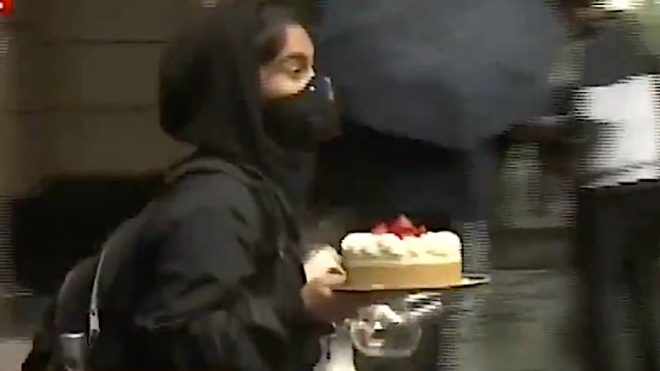 Video of Seattle Woman Looting a Whole Cheesecake Goes Viral
A
s protests demanding justice following the death of George Floyd take place in major cities across America, peaceful rallies turned violent in Seattle, Washington, on Saturday. While numerous videos shared on social media showed protestors clashing with police, one particular news clip involving a cheesecake went viral.
On May 30, KIRO 7 News happened to film a protestor walking by in downtown Seattle holding an entire strawberry cheesecake with a whipped cream topping. While wearing a protective mask, the woman was casually strolling down the street with what appeared to be a stolen dessert from The Cheesecake Factory.
Cheesecake Factory in Downtown Seattle was looted and @KIRO7Seattle caught someone walking away with an entire cheesecake pic.twitter.com/lvzbdgNJcX

— Ms. Chanandler Bong (@joefarrell86) May 31, 2020
Video of the woman stealing the cheesecake has already been viewed over a million times. Many users online dubbed her a "hero."
WHY IS THE PERSON WHO LOOTED A DISPLAY CHEESCAKE FROM THE CHEESECAKE FACTORY IN DOWNTOWN SEATTLE MY HERO???

— sketchyᶻᶻᶻ🔋 (@sketchysoot) May 31, 2020
I just hope the Cheesecake Factory girl from the Seattle protest has a good day

— Jannell 🌹 (@laniouka) May 31, 2020
While this viral video gave viewers a nice laugh, the riots which broke out in Seattle on Saturday night were no joking matter. KIRO 7 reported that windows of The Cheesecake Factory were completely smashed to bits and looters were seen stealing bottles of liquor in addition to dessert from the restaurant's display case.